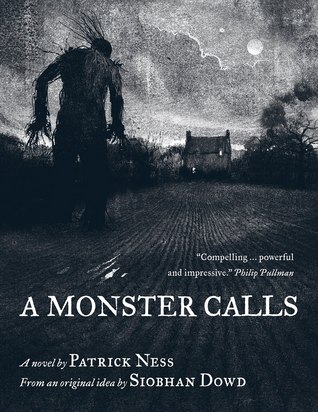 Hump day again!
Today I have something special for you.
I couldn't pick just one story for the letter M, so I picked two! My two favorites.
First is another Patrick Ness novel, which in case the story itself wasn't already poignant enough, is a tale he wrote finishing an idea a friend and fellow writer of his, Siobhan Dowd, had before she died.
Is that something in my eye?
Today's first 2015 April A to Z Blogging Challenge story for the letter M:
A Monster Calls
Here is the summary, from
Goodreads
:
The monster showed up after midnight. As they do.

But it isn't the monster Conor's been expecting. He's been expecting the one from his nightmare, the one he's had nearly every night since his mother started her treatments, the one with the darkness and the wind and the screaming...

This monster is something different, though. Something ancient, something wild. And it wants the most dangerous thing of all from Conor.

It wants the truth.
Author:
Patrick Ness
(from an original idea by
Siobhan Dowd
)
. . .
But like I said, today I have something special for you.
Two stories!
A book by one of my favorite authors, and a film by my favorite writer and director of animated features, the legend,
Hayao Miyazaki
.
Not only is Princess Mononoke a great film, it is, in my humble opinion, Miyazaki-san's greatest achievement. I did a list of my favorite Miyazaki films a while back on this blog, you can find it on my
series page
.
Anyway, how is your challenge going? I actually got behind on posting, and I've slowed down a little with my visiting, but I'm otherwise still going steady.
Today's second 2015 April A to Z Blogging Challenge story for the letter M:
Princess Mononoke
Here is the summary, from
IMDB
:
On a journey to find the cure for a Tatarigami's curse, Ashitaka finds himself in the middle of a war between the forest gods and Tatara, a mining colony. In this quest he also meets San, the Mononoke Hime.
Director:
Hayao Miyazaki
Writer:
Hayao Miyazaki
Stars:
Billy Crudup
,
Billy Bob Thornton
,
Claire Danes
Isn't it interesting how the summaries for movies are always so much shorter than the summaries for books? That's it! Please come back tomorrow.